I can drink tea directly from the steel tumbler at home – the smaller one with the steel handle – only when I have prepared it. Because with Amma's tea there's enough only for 4 modest-sized glasses (or 5 or 6, based on how many of us are missing from home), no more. And why would you drink from a tumbler if your glass had as much (tea) to offer? Unless you didn't want to bother washing that extra glass.
We also have in our kitchen the steel tumbler with the steel handle in a bigger size, it lets me pretend I'm chaya-adikaling (beating tea?) over the kitchen sink that temporarily functions as a spillover tank for the tea I send flying all over. Usually little, if any, is left by the time I'm done performing the rhythmic beating (adikal).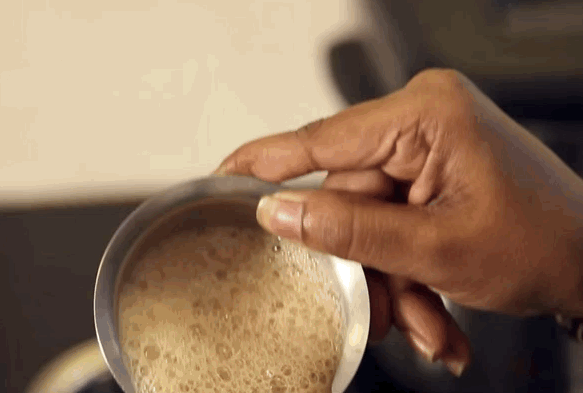 A scaled-down demonstration of beating tea. When you really perform the act, it should look something like this :
Beating tea/Chaya adikaling (to scale) for people who haven't witnessed the sorcery. I'm a bad witch, I guess. Also a bad translator.
I specifically mentioned the steel handle of the steel tumblers because we also have in our kitchen a steel tumbler about the same size with a black plastic handle that we take kanjivellam (rice water), and occasionally tendercoconut water in. We don't use it for much else, it lays abandoned in an unwieldy corner of the kitchen until somebody falls sick. And then all of a sudden it is everywhere you look.
(Kanjivellam has been claimed by Malayali Achans and Ammas and Ammummas and Appoopans to have high nutritious quality. Some go as far as assigning analgesic, antiseptic and antibiotic properties to the magical drink).
Since the arrival of June, the steel tumbler for kanjivellam with the plastic handle has taken over my home.
---
Evenings are for tea.
Mornings are also for tea but morning chaya would be Amma's monopoly.
I like to be generous with tea, both for myself and others. It helps that I'm bad at discerning proportions, unlike my mother. There is not too much difference in our processes, only in our products.
Amma's chaya (served in glasses) :
1. Pour enough water in the vessel for 4/5/6 people
2. When it boils, add enough Kannan Devan Tea powder aka chayappodi
3. Add enough boiled milk followed by enough sugar
Define enough? Quite ambiguous yet not exactly uncertain, rather open to interpretation. Are we doing modern art?
Enough is enough!
My chaya (served in glasses and a tumbler) :
1. Pour water in the vessel. Take some out if I think it's waay too much but otherwise I do not meddle. Like I said, I'm generous. A little too much water = a little too much tea. And that never hurt anybody. No?
2. Add tea powder when the water boils – enough chayappodi to color all the liquid, doesn't matter what shade as long as it appears brown. (If not, you probably shoved in the wrong condiment. Throw out the water discreetly and start over).
3. Add milk – how much ever is left in the paal paathram (also did I mention I'm generous).
4. Time for more tea powder because you knew that was waay too much milk before I even added it.
Yes indeed, waay too much is Amma's daughter's catchword.
Define waay too much? That's cute, you'll know.
5. Sugar, usually followed by some more tea powder. More sugar. What? Be generous.
And there you have it. The path to attaining high BP. But that never killed anybody. No?